223/5.56 Free Float Jackal KeyMod Series
Showing 1–12 of 22 results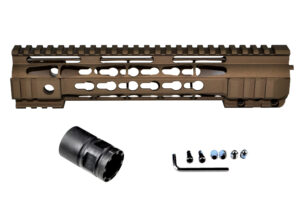 Presma® Jackal Series .223 Super Slim Free Float Handguards, 10 inch – Cerakote Bronze Brown
Presma® Jackal Series .223/5.56 Super Slim Free Float Handguards, 10" - Cerakote Bronze Brown.
Jackal Series now available with Cerakote Finish!

Cerakote is an oven cured, thin permanent ceramic gun coating that is rust-proof, self-lubricating, scratch-resistant, and solvent resistant. Also enhances impact strength and hardness and is designed to last the lifetime of the firearm.
Replacing the standard handguard with a Presma® Jackal Series Mount free float quad rail enhances the tactical look for your firearm and provides an instant rock-solid platform for accessories.
MSRP $148.99
[btn text="Click here to Purchase" tcolor=#FFF thovercolor=#FFF link="http://shop.presmainc.com/products/presma-r-jackal-series-super-slim-free-float-handguards-10-inch-prja021" target="_blank"]
not rated
Read more